Luz de Madrid (Madrid's Light)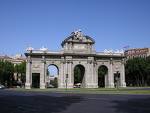 It's a tune like those that I make sometimes. I wrote the title, curiously, in a very foggy day.
JJC: Ovation acoustic guitars
Recorded on December the 8th of 2007
---
Jorge y Javier


This picture of my sons was taken in Peņiscola, Mediterranean Coast, long time ago.
Jorge y Javier are my sons. In this song, I really don't know if I could express exactly what I felt, and still I feel, for them.
JJC: Keyboards, 12-string acoustic guitar and programming.
I recorded this song around 1990.
---
Guadarrama

Guadarrama is a village in the mountains near Madrid where I stay in summer, when my job allows me to go there.
JJC: Electric guitars, acoustic guitar and programming of percussion.

This song was recorded at the Easter in 2005 in Guadarrama. It was the first time I used my laptop to do it. The result was not so bad.
---
This song is dedicated to the park where I used to play when I was a little boy and where my sons played too. I always lived near it and still live here.
JJC: Acoustic guitar, keyboards and programming od drums, bass and synthesizers.
It was recorded when I was attempting to get the better sound to my Yamaha synthesizer around 1990.
---
Sarajevo


I was terrified by the Bosnian war because of the brutalities that they were making, between brothers. From that horror this song was written.
JJC: Electric guitars and keyboards.
At that time I was very influenced by celtic sounds. This song is an aproximation to them, knowing that I don't know how to play bagpipes.
---
It's a dinosaur quite similar to velociraptor. When I wrote and recorded this song, my sons, like all the children at that time, were obsessed by these animals.
JJC: Electric bass, acoustic and electric guitars.
It's a simple song with celtic influences as well, I was making this kind of music in the first nineties. I didn't pretend to do any important thing with it.
---
Niņos (Children)



These pictures of my sons are my favourites.
The title of this song have nothing to do with my sons. It sounded to me like childness. I was 20 when I wrote it.
JJC. Spanish, acoustic and 12-string guitars.
---